This Usually Doesn't Happen To Me
That is to say, I'm not usually the winner in
this
house. It's usually the 'Luck Of The Irish' lad. I mean, he even won a trip to Dublin for St. Patrick's Day one year and we got to surprise his family! I did win a trip to Florida once so I guess I can't complain (really I can't), but if we're doing the math, G wins things
way
more often than me. Scratch tickets? I'm not sure why Santa even brings them to me in my stocking. I'm lucky if I win a buck. G? Another story completely. In fact, I usually make him scratch some of mine because I know if anyone is going to scratch a winner, it's him. OK, maybe I'm exaggerating a bit. I did also win on Kentucky Derby Day a couple of years ago, but still, bar that and the Florida win, mine are few and far between.
However..............this morning I started my day with an email from the lovely
Diana over at exPress-o
, notifying me that I'd won the giveaway she had on her blog last week. I won a beautiful custom stamped bangle/cuff bracelet from
SimaG Jewelry
. Woohoo.......lucky
me
!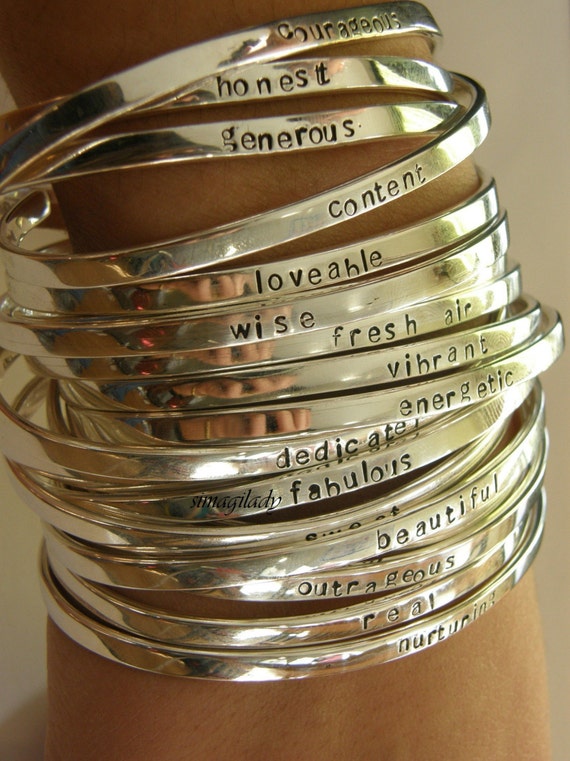 Awesome Dawson!
I won, I won, I won, I won..........doing my own little snoopy dance over here.
Now for the even funner part, I get to decided what to have stamped on my bracelet. Oh, as you can see from the above image, the possibilities are endless, even with just 20 letters max.
At the top of the running for me are:
- live, love, laugh
- be happy
- peace
Well, what's your vote? Which of the three above would you choose. Which do you think
'I'
will choose? And if you were choosing for yourself, what would you put on a bracelet from
SimaG
?
Many thanks to
Diana at ExPress-o
for hosting the giveaway and to
SimaG Jewelry
for sponsoring. I don't know if I've told you this, but I'm a bracelet kind of gal.
So, how was your weekend? Ours was good. A little trans-Atlantic Skyping with my best frined Tina on Friday. Saturday, I watched some hockey (we won!) and a movie or two. Yesterday we ended our day with a cocktail and some cheese and crackers with the neighborhoodlums. And, as you can see, my week has started off with a bang! What's happening in your world?
Ciao for now,